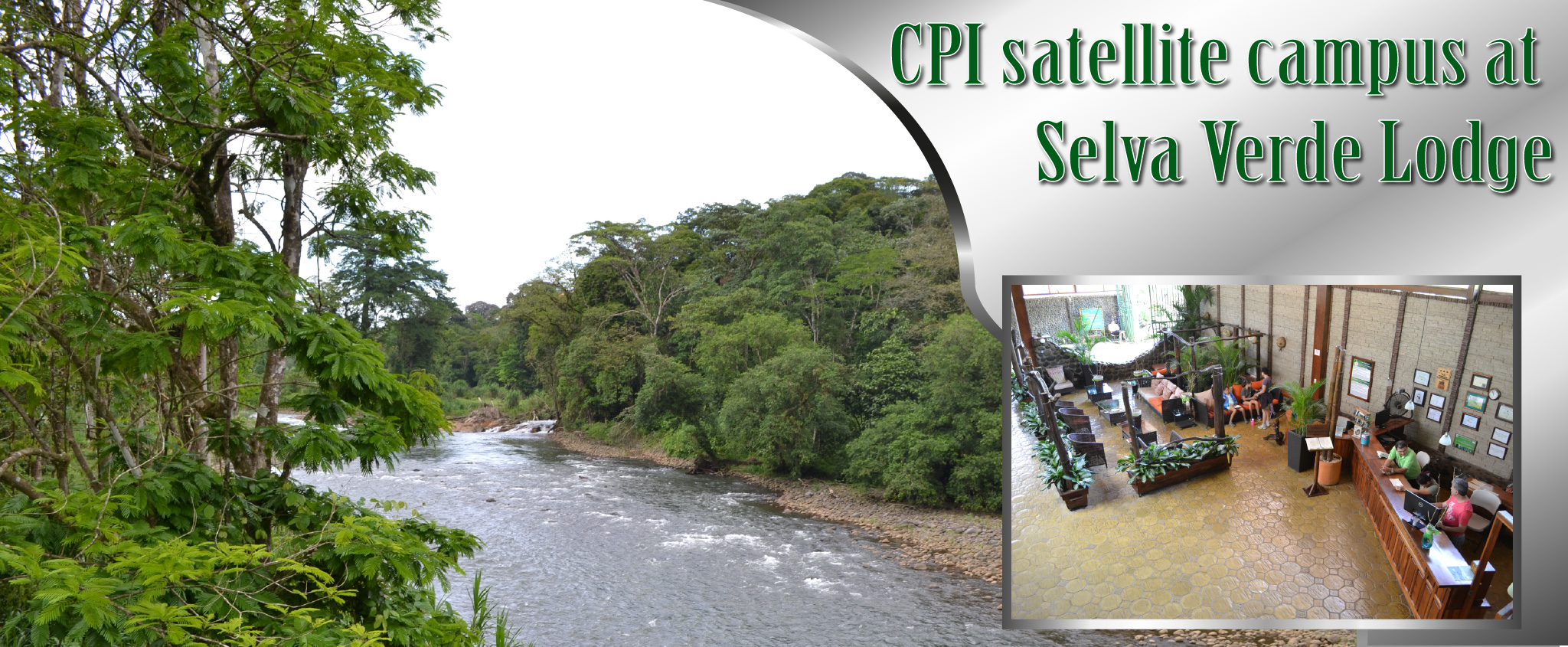 About Satellite Campus at Selva Verde Lodge
Imagine visiting with a troop of howler monkeys, riding horseback across the Sarapiqui landscape, hiking through a forest teeming with exotic wildlife, or rafting down the Sarapiqui River. Learn Costa Rican history and culture as you uncover the magic of turning cocoa into chocolate, learn to cook succulent Costa Rican dishes, or master the Salsa in dance class. Experience all of this and more at Selva Verde, all while learning to speak Spanish! With world class amenities and accommodations, including: pool, dining room, and covered jungle walkways, Selva Verde promises guests an experience they will carry with them for a lifetime.

Overlooking the scenic Sarapiqui River, the dining hall at Selva Verde serves three meals daily and provides guests with the freshest, most delicious local buffet-style cuisine. We invite you to click here to find the facilities offered by Selva Verde Lodge

Why waste any more time? Learn Spanish in the jungle through CPI's Spanish Program at Selva Verde Lodge and Rainforest Reserve!


Our Vacational and Language Program
Learn Spanish in the rain forest! CPI is partnering with
Selva Verde
Lodge and Rainforest Reserve to offer students the experience of a lifetime.
If you are looking for a cultural and ecological experience in Costa Rica for your family, Selva Verde is the perfect Spanish program for all family members. Imagine having the opportunity of being surrounded by the unique and beautiful wildlife along with the spectacular natural sceneries of the Sarapiquí River, all while you and your family enjoy an immersion Spanish class. We can assure unforgettable family memories.

Classes are scheduled in the afternoons, enabling you to participate together in optional excursions and activities during the mornings. This is an all inclusive program and you can take advantage of our special family rates; the weekly program includes: 20 hours of instruction, text books and placement test, 5 nights of accommodation - River Lodge rooms (minimum 2 per room) - from Monday through Saturday with 3 meals each day, access to Selva Verde's facilities and transportation from Heredia to Selva Verde.

Price Excludes:
• Round trip airfare to/from Costa Rica
• Exit tax paid upon departure ($31 per person; most carriers are now including this fee in ticket price)
• Excursions
• Transportation from Selva Verde to Heredia


Founded in 1991, CPI offers premier conversational language instruction to students of all ages and skill levels. Tailor-made Spanish classes provide students an interactive learning experience that cannot be duplicated. CPI boasts an experienced, university-educated language staff, and is currently partnered with a number of universities from the United States as well as the Instituto Cervantes from Spain. Class sizes are small, ranging from two students to a maximum of six, allowing one-on-one interaction between student and instructor. No matter the skill level, students begin conversing from day one. Classes are communication-based, supplemented with a strong foundation in fundamental language mechanics. Students learn through direct interaction with the instructor, engaging in active language exercises that make the learning process exciting and new each day!


The CPI experience at Selva Verde is truly unforgettable, surrounding its guests in one of Costa Rica's most beautiful rain forest locations. As CPI's ecological campus,
Selva Verde
is proud to be recognized by Costa Rica's Certification of Sustainable Tourism, earning three out of five leaves for its dedication to sustainable development in the tourism industry. Once you visit, you will certainly know why!
The Schedule
CPI courses at Selva Verde operate year-round with new programs beginning weekly.


Participants attend class week days from 1:00 pm to 5:00 pm providing participants with the most effective Spanish instruction as well as the opportunity to enjoy all that Selva Verde has to offer!


The first day of class, Monday, the participants should arrive at 10:00 am for an orientation and check in.


CPI offers its services to groups of all shapes and sizes and is the perfect vacation experience for the family!


Program participants may combine the Spanish program at Selva Verde with any or all of the three additional CPI locations: Heredia, Monteverde, or Playa Flamingo. No matter what campus or location, participants will find the same classroom values and methodology, with a dose local flavor.


Many institutions of higher learning in the United States already accept CPI's language curriculum for academic credit! Among these are New Mexico State University and the University of Southern Mississippi! For more information about credits
click here.
We can't wait to see you there! RESERVE YOUR VACATION NOW!
Prices
Adults:
Program 4 hrs a day and lodging for 5 days / $1,015 per person
Children up to 11 years old:
Program 4 hrs a day and lodging for 5 days / $875 per child
Price includes
Spanish Classes - minimum 2 persons at same level
3 meals a day
Lodging
Books
Virtual placement test
NEW:FREE ONE WAY!
On the Monday morning prior to starting afternoon classes, CPI will provide free transportation for the teacher and Selva Verde students; departure is on Monday morning from San Joaquín de Flores at 8:30 am.
Return transportation has a cost of $55 dollars per person, from Selva Verde to San Joaquín de Flores or close to the airport.
Special transportation price for families
of 3 members or more: $155 dollars each way

Important:

PRICE INCLUDES SEMI-PRIVATE CLASSES - 100% PERSONALIZED

AVERAGE STUDENTS PER WEEK ARE 2

SCHEDULE IS FLEXIBLE: We recommend afternoon studies; but you can study in the morning or at the time most convenient to the student.
Margarita Peg Reagan
I absolutely love Selva Verde Lodge!

It is my treat to myself after weeks of homestays while studying at the CPI school. I still learn--with a top-notch teacher and the same program I use at the school--but I get to enjoy a large room with private bath (and lots of hot water), a choice of delicious foods in the dining room (with fresh fruits and fresh green salads), a drink before dinner (try the "guapatica"), a morning swim in a lovely pool with toucans in the trees, and gorgeous views of the Rio Sarapiqui.

The wildlife tours offered with either a Spanish or English speaking guide on the Lodge's wildlife reserve are super. Rafting down the Sarapiqui is lots of fun. But I think my favorite thing is simply to laze in a hammock with a good book overlooking the river.

The staff is friendly and helpful.

I can't wait to return!